Commercial Electrical Service in Spokane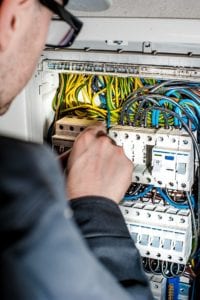 If you are a business owner or property manager, why take the chance of having an unqualified Electrician in Spokane, WA tampering with your electrical service or maintaining your electrical system? Today's businesses are heavily dependent on computers, printers, servers, and other sensitive electronic equipment, so having a good electrical system in place is key. There is never a convenient time to lose power, so your electrical wiring should be up to code and free from all electric hazards and short circuits.
Easy Electric is a fully licensed and insured commercial electrical contractor. We specialize in tenant improvement and service work. Our professional Electricians in Spokane, WA work diligently and quietly so you won't even know they are there. For your added protection and to ensure a dependable staff, all our electricians must pass a rigorous selection process, including a drug test and criminal background check, before we hire them. We will gladly meet all your deadlines and complete your project on budget. Call or email us for a free quote today.
Electrical Outlet Installation
Commercial businesses rely on electrical outlets and switches in their offices. You may not realize how dangerous faulty outlets and switches can be or the amount of electricity they can discharge. These are the reasons why we urge you to have an electrical safety check on your commercial property or office performed by our team of expert electricians.
Over the years, connections to plugs and switches tend to loosen and can create a potentially dangerous situation. If a switch or plug is warm upon touch, you have got a problem. The discoloration is an indicator of intensifying troubles which signals the time for consulting our assured and licensed electricians.
Electrical Panel Installation
Obsolete electrical arrangements are the norm in an excessive amount of aged households. If your board still utilizes fuses, quit reading and book a panel upgrade estimate immediately. If your electrical panel is more than 25 years old, it is imperative that you give us a call to schedule an inspection and an estimate.
Your modern way of life has more demands for power from an electrical grid than ever before. Every appliance and electronic device inside your home all requires more power than older systems can safely provide. Usually, older electrical panels don't get upgraded until an issue shows up.
Indicators that you need an upgraded panel:
Use of high-load electrical equipment
Additional 220v circuit
Addition of a hot tub or a sauna
Use of multiple extension cords
Scorching or discoloration of electrical panel
Crackling or buzzing sounds from the electrical panel
Lights or bulbs flickering
Circuit surge
Tripping breakers or blown fuses
Existing non-grounded outlets and wiring
New construction or new appliances
The recent addition of a sub-panel
Required accommodation for a home generator
Need higher Amp incoming Service
The procedure begins by requiring our squad of authorized electricians to examine your panel. He will assess your electricity usage and ascertain if you require a new panel. He will then afterward supply you with upgrade alternatives. Our company promises that your panel won't be upgraded until you approve our estimate.
Contact Our Team
Make an appointment with our squad of qualified electrical engineers for a checkup of your power system. They will draw up a thorough endorsement of possibilities to assist you in enhancing your businesses power supply to allow for fitting surge protection. You should be able to spare a few moments to schedule an inspection by our team. Be it as it may, it requires much less time for a surge to pile up costly losses. At this stage, you must decide.